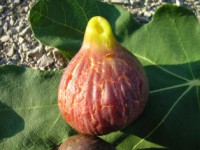 The origin and identity of this fig tree are unfortunately not known. It was found in an old orchard, in a village named Valleiry, in Haute-Savoie, around 1988. However, it is possible that this tree is an enhanced strain of "English Brown Turkey" with differences in fruit color and size.

Valleiry is a fig tree of medium size, larger than taller, that can be maintained to an easy-to-harvest size, by providing adequate trimming.

This cultivar is interesting for very cold climate as it produces a heavy breba crop followed by main crop. However, it is important that this fig tree be relatively well protected against strong winds, to prevent terminal branches from freezing too much in winter and breba from falling during humid, windy and cold springs.

When harvested at maturity, the breba fruits are very good, juicy and sweet. However, if some fruits are left longer on the tree, and that insects and birds do not feed on them, they become denser; the flavor comes closer to dried figs with a little note of strawberry.

Some fruits may start ripening at the beginning of July, but the real crop happens in August and ends in September. It is sometimes possible to harvest the last breba fruits along with the very first main crop fruits.

The main crop is usually late and is not really successful; some fruits may ripen in September, but the real ripening period starts in October and extends until the first frosts.

Unlike many other figs ripening in October, when the season stays warm, this variety is able produce really tasty and sugary fruits, with strawberry notes. The sugar rate does not seem to be much affected by the temperature drop that happens in Autumn.