Gallo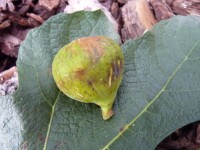 Gallo was found in an Italian village (350 meters of elevation) that is known for being cold and snowy during winter, in the southern part of the Alps.

This is a medium-sized tree, which produces few brebas, of medium quality, and an early and abundant main crop, at the beginning of September till the first frosts. The main crop figs are really small, but have fair to good organoleptic qualities.

In cool and rainy summers, Gallo is a type of tree, whose branches keep on growing until the end of the fall season, preventing main crop from ripening. Therefore, it is very important to pinch the terminal buds, when branches bear between six to eight fruits

It is also named "Binello" meaning "Twins" as main crop fruits often appear grouped together. This name is also used to represent Dottato, Kadota in the USA, and probably the only resemblance is the exceptionally heavy main crop.

This fig tree is interesting for its cold hardiness, early main crop ripening period and manageable tree size. However due to really small fruit size, this fig tree is abandonned.
General data
Origin
Italy, Ligury
Synonym(s), local names
Binello, Buzzone
Tree type
Common
Crop
Biferous
&nbsp
Tree morphological characteristics
Shape
Spreading
Vigor
Medium
Ability to produce suckers
Weak
Height after 10 years
350 cm
Width after 10 years
300-400 cm
Minimum width
300 cm
&nbsp
Branch morphological characteristics
Branch color
Brown, green
Caliber
Medium
Buds
Green
&nbsp
Leaves morphological characteristics
Leaves
Average
Lobs
1-3-5
Depth
Medium sinuses
&nbsp
Adaptation outside the Mediterranean area
Cold hardiness
Very good
Wind resistant
Excellent
Pot culture
Excellent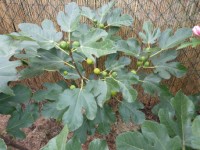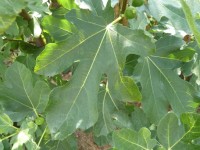 Yield
Almost none
Fruits dropping
High fruit drop
Alternance
Weak
Sensitivity to splitting
Very resistant
Crop begin date (day-month)
Valleiry:21-07
&nbsp
External characteristics
Skin color
Yellow
Skin thickness
Thick
Shape
Pyriform
Stalk
Breaks off readily
Stalk shape
Neck
Quite long
Neck color
Yellow
Eye
Medium, closed
Eye color
Brown, red
Average weight (grams)
19 g
&nbsp
Internal characteristics
Pulp color
Amber
Seeds
Felt, many
&nbsp
Organoleptic evaluation
Texture
Juicy
Sugar
Sweet
Taste
Good
Perfume
Quite weak
Organoleptic descriptors
Sweet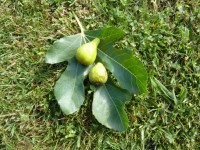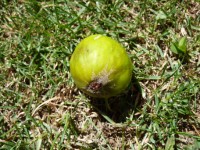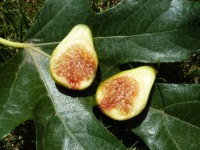 Yield
Strong
Fruits dropping
No fruit drop
Alternance
None
Sensitivity to splitting
Very resistant
Crop begin date (day-month)
Valleiry:04-09
&nbsp
External characteristics
Skin color
Green, yellow
Skin thickness
Thick
Shape
Turbinate
Stalk
Does not break off readily
Stalk shape
Short and medium
Neck
Short
Neck color
Green, yellow
Eye
Big, opened
Eye color
Brown, red
Average weight (grams)
18 g
&nbsp
Internal characteristics
Pulp color
Dark amber
Seeds
Felt, many
&nbsp
Organoleptic evaluation
Texture
Pasty
Sugar
Sweet
Taste
Medium
Perfume
Medium
Organoleptic descriptors
&nbsp